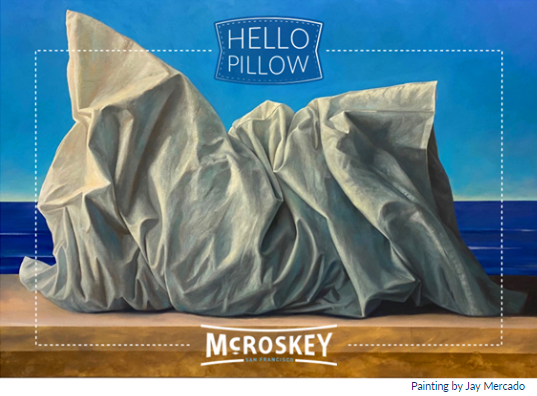 Welcome to our inaugural "Hello Pillow" newsletter, from me, your pillow.
As part of  McRoskey Mattress Company, the Bay Area trusted luxury sleep retailer, I look forward to sharing valuable tips and interesting commentary to bring delight to your day.
And what a better way to begin by starting with the importance of ME:
a good pillow. My job as your pillow is to help you to maintain good sleep posture… by keeping your head in alignment with your spine.
How do YOU sleep? On your stomach? Your back? On your side?
Hint: Your sleep position is defined by how you wake up in the morning, not how you go to sleep at night. Follow these guidelines to achieve the best sleep posture position.
---
Pillows for Side Sleepers:
If you are a Side Sleeper (about 80% of sleepers), look for a firm pillow that fully supports your head by filling the space between your head and shoulder. For the dedicated side sleeper, consider the boomerang-shaped Dr. Mary Side Sleeper providing proper head support with no morning neck pain, no fingers falling asleep.
Pillows for Back Sleepers:
If you are a Back Sleeper (about 15%), seek out a medium firmness. You want to avoid a pillow that is so firm that it pushes your head too far forward. You also do not want to sleep on a pillow which is too soft as it will lead to your head tilting backward.
Pillows for Stomach Sleepers:
If you are a Stomach Sleeper (about 5%), the best fit would be a pillow that is built with a lower loft to not place too much unnecessary strain on the neck. A pillow which is too thick will create unwanted pressure. Softer pillows tend to fit stomach sleepers the best.
---
So you know, here are some common pillow sizes:
King: 36" x 20"
Queen: 30" x 20"
Standard: 26" x 20″
Neck hugging pillows (travel, reading, tv): large – 8″ x 32"; small – 6"x 21"
Boomerang shaped pillow: 13-3/4" x 45"
And here's information for you about the benefits of quality pillow filling materials.
---
Down Pillows:
The ultimate in comfort, durability, and warmth that is lightweight and breathable. Properly cleaned and conditioned down is hypoallergenic. These types of pillows have long been tied to the feeling of pure luxury. If indulgent is what you are looking for down pillows are the way to go.
Synthetic Down Pillows:
Synthetic down pillows are made with polyester fibers to simulate down. These pillows mimic the down pillow's ability to flow around the neck and head. The material is hypo-allergenic, which is great for sleepers with allergy problems. These are a less expensive alternative to down pillows.
Hybrid Pillows:
Great for someone who sleeps in multiple positions. Our very popular SoftCell pillow utilizes a removable core which allows you to adjust the loft of the pillow. Its reversible construction provides a side filled with synthetic down and the other with natural latex. Latex has elastic properties that allow it to flex quickly as you move throughout the night so that your sleep is rarely disrupted.
---
---
Take care of your pillows…seriously!
As your pillow, I offer up the following care tips:
Use a pillow protector as well as a pillowcase.
Wash weekly.
Freshen me up in the dryer. Ten minutes on the air fluff cycle (no heat) once a month.
Take a good look at me every two years:  replace me.
I take a beating. Your head is heavy, and it's sweaty. Plus, I take a lot of punches. It's not just the pillow fights; it's the pushing around I get every night.
But when you take the time to select the correct pillow, we'll both sleep better.
Hello Pillow (that's me) will be back on a regular basis to share findings with you. Here's to another delightful day!
---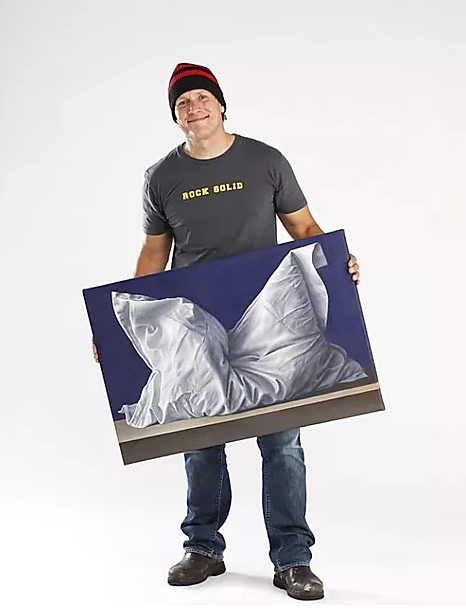 About Jay Mercado
Jay Mercado – a fine artist and muralist who lives in San Francisco painted the 5' x 8' pillow portrait on display in the McRoskey San Francisco Showroom.
Visit the Jay Mercado Studio at 4754 California Street.
www.jaymercado.com