Referral Reward Program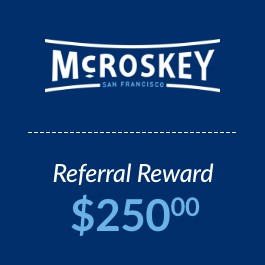 Did you know that you can help your friends and relatives discover life-changing sleep while earning rewards for yourself?
With McRoskey San Francisco's referral rewards program, you'll receive a $250 reward code for every customer you refer who buys a mattress. Reward codes can be used online to purchase any non-mattress products available on our website.
Simply ask your referral to mention your name at the time of purchase and we will email you a savings code for use once their order is delivered.
Reward codes issued in 2021 are valid through December 31, 2021. All Reward codes issued prior to December 31, 2020 are now expired.
Reward codes are not redeemable for cash. Referrers of purchasers who live in the same household are not eligible. Reward codes cannot be used to cover shipping expenses. Please see a Sales Specialist for further details. Enjoy your Referral Rewards….you have earned them!

Robin McRoskey Azevedo
CEO